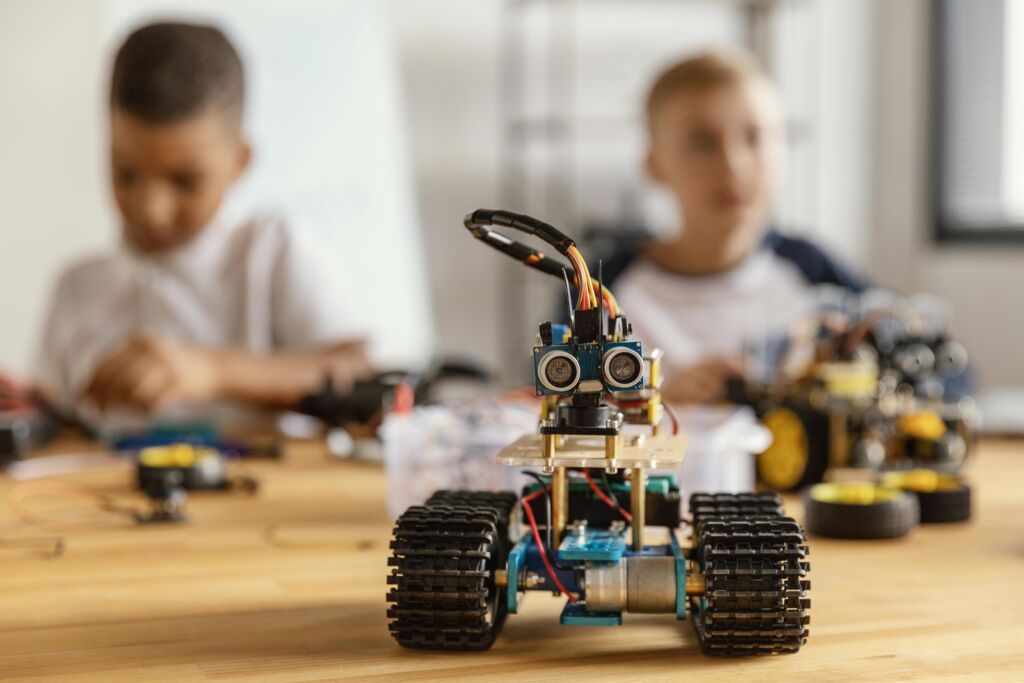 Managing the industrial process and machinery are complex tasks which can be simplified and easier with the use of computers, control systems and information technology. The main contributions are robotics and automation which now replaces manual work and increases the efficiency of the materials.
Now, more than ever, industries are utilizing AI and ML to examine data, spot patterns and trends and enable actual automation hardware. So, if you're interested in developing or building your creative framework to resolve complex issues, then enroll in the colleges that have courses like B Tech Artificial Intelligence and Data Science in Coimbatore that supports achieving your goal. Now, let's discuss how robotics and automation are shaping the future.
How do robotics and automation come into industries?
Robotics is a method that includes automating a process or operation. It includes assembling, packaging, labelling, painting, inspection, assessing and more. Industries are utilizing these technologies because of their speed of tasks, accuracy and durability. The basic benefits expected are,
Automation reduces repetitive tasks or administrative paperwork procedures.
Automation is now evolving into industry 4.0 where you can expect revolutionary changes in every sector.
Automation tools like smart sensors, analytics tools, machine learning and artificial intelligence make it possible for businesses to go for data-driven education.
If you intend to work in the robotics field or develop software, get a bachelor's degree in computer science or enroll in B Tech AI and Data Science colleges in Coimbatore. Robotics is essential in every field so you can find the presence of this course in mechanical or electrical engineering. Let's discuss in what ways that impact the industries.
How do AI and ML come into play?
Artificial intelligence and machine learning are the applications where you can find the improvements and advancements in robotics and machine learning. So, do you think AI and ML are the same? No but their purpose is different.
AI describes computer programmes that are trained to carry out a certain task. In this way, you can potentially save time and save the programmer from having to predict every possible set of circumstances.
What do you know about smart manufacturing?
Industry 4.0 is about the businesses digitizing operations to improve productivity, raise standards and cut costs. Similarly, you can find the booming of industry 5.0 focusing on manufacturers that continue to foresee the future in every sector.
The big negative influence is that the current improvisation of automations leads to the loss of human work and may risk their occupations. The risk is that when sensors and analytics are used more frequently, everything will be monitored. Thus it turns human manufacturing workers into little more than machines.
Though it can be considered a drawback, it is not a machine that works without human intervention. It means that hardware automation handles repeated activities and software automation handles repetitive data processing and analytical processes.
The other way to get employment in this field is to supervise automation and to settle issues like sustainability.
How employment has a huge influence because of robotics and automation?
It is understandable that not every task needs, benefits from or can be automated. However, the development of AI, creativity, flexibility and resilience are crucial roles in today's industries.
Manufacturers need to consider automation strategies for financial restraints. At the same time, automation will increase when it makes economic sense. So, we can say that automation and robotics can improvise and develop new job roles in industries where you need to use smart brains rather than manual work.
Engineers still have the option to start their careers once they complete a computer science engineering course at the best engineering college in Coimbatore.
What will be the future of robotics and automation?
It is a fact that you see transformations and upgrades in various fields. However, here are three fields which are common for all industries.
Do you have separate rooms for research and development?
Businesses should look for creative ways to profit from advances in AI and smart manufacturing. This can be done in a well-defined manner in order to reduce the number of risks. These initiatives will be supported by tools like factory simulation and digital twins, which allow testing in a virtual rather than real environment.
How can engineers adapt to these technologies?
The lack of skilled workers will only get worse. It is high time that manufacturers also need to be aware of these manufacturers who can develop their skills and are willing to pay high. A wide range of Coimbatore B Tech Colleges include the basics of robot programming and is also available online for little or no cost.
Is it essential to increase security?
Especially if they intend to employ cloud services for analytics and data storage, manufacturers using industry 4.0 technologies would be advised to take cybersecurity properly. It requires to hire or train people with the appropriate skills; otherwise, there may be an attack.
Success will depend on implementing these robotics and automation tech where they can be most useful, which calls for carefully examining opportunities and alternatives. If you consider studying robotics engineering, then it is the best to enroll in the best engineering colleges in Tamil Nadu and find various career prospects in your field. Learn the importance of incorporating people into the framework of hardware and software automation rather than relegating them to the role of the machine.