To provide the youth with the best opportunities and environment for higher education and research in engineering and technology.
To help them to attain high level of academic excellence, technical and professional competencies and life skills.
The Department of Science and Humanities function with the specialist of eminent faculties playing a vital role in mending and moulding the young minds towards the path of success. English, mathematics, physics and Chemistry are the four main streams of this department. Functioning under Dr.S.Padmanabhan, as Head of the Department, aims to bring out excellence among students in the respective disciplines by providing them a deeper and thoroughbred knowledge about the basic facts and fundamentals among the various streams of Engineering.The laboratory of Physics and Chemistry are well equipped with modern facilities. It aims to develop theoretical knowledge and technical skill for all the budding Engineers of first year.
A Research Lab is established for the faculty members to pursue their research work. The Department of Mathematics is equipped with highly qualified faculty members assists the students to tackle Engineering problems with ease. The Department of English acts as a beaconing light and emphasizes on effective communication which is essential to sustain in this competitive world. The Department of Science and Humanities plays an integral part of the institution and it strives to bring quality education replete with the philosophy of blending human values and academic professionalism.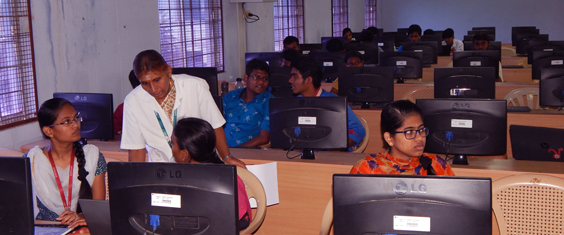 To provide students with the fundamental knowledge, societal and confidence required to excel in their chosen professions.
To serve our students by teaching them problem-solving, leadership and teamwork skills and the value of commitment to quality, society and respect for one another.
To encourage research oriented activities as a primary task to make the learners become more authoritative of their understandings.
Development of Nanocomposites for water treatment
Crystal growth for Opto Electronic devices
Thin film for Bio sensors
Application of Activated carbon in Wastewater treatment
Corrsoion rate constant for metal in acidic and alkali medium.
Labs (Physics Laboratory, Chemistry Laboratory, Professional Communication Laboratory)
Smart Class room: 1
Seminar Hall : 1
Tutorial Classrooms :2
Pantry Room :1
Common Rooms :2
Class rooms :10
Faculty Rooms :6
S.No
Faculty Name
Qualification
Designation
Teaching
Experience
in Years
1
Dr.PADMANABAN S
M.Sc., M.Phil., M.Ed., M.Phil., Ph.D.
Professor
25
2
Dr.NANDHINI T
M.Sc., M.Phil., Ph.D.
Assistant Professor
2.9
3
Dr.SUGANYA S
M.Sc., M.Phil., Ph.D.
Assistant Professor
0.5
4
Ms.SHARMILABANU S
M.Sc., M.Phil.,
Assistant Professor
10
5
Ms.KASTHURI N
M.Sc., M.Phil.,
Assistant Professor
9
6
Ms.KOKILA S
M.Sc., M.Phil.,
Assistant Professor
4
7
Mr.MUNUSAMY K
M.Sc., M.Phil.,
Assistant Professor
13
8
Ms.SWEATHA A R
M.Sc., M.Phil.,
Assistant Professor
3
9
Ms.VINITHA A
M.Sc., M.Phil.,
Assistant Professor
2
10
Ms.SINDHUJA S
M.Sc., (Ph.D.)
Assistant Professor
0.5
11
Ms.NARESHKUMAR R
M.A. M.Phil
Assistant Professor
3
12
Ms.KARTHIKEYANI M
M.A. M.Phil
Assistant Professor
1
13
Ms. APARNA P
M.A. M.Phil
Assistant Professor
1
14
Ms.JOE ROBINSON J
M.A. M.Phil
Assistant Professor
1
15
Ms.NITHYASRI S
M.A. (Ph.D.)
Assistant Professor
4
16
Dr.JOHNSY ARPUTHAVALLI
M.Sc., M.Phil., Ph.D.
Assistant Professor
11
17
Dr.SUTHAKARAN S
M.Sc., M.Phil., Ph.D.
Assistant Professor
2
18
Ms.SOUNDARYA G
M.Sc., M.Phil., (Ph.D.)
Assistant Professor
5 Months
19
Ms.LATHAMARAGATHAM A
M.Sc., M.Phil.,
Assistant Professor
11
20
Dr.PETCHIAMMAL M
M.Sc., M.Phil., Ph.D.
Associate Professor
24
21
Dr.KASTHURI N
M.Sc., M.Phil., Ph.D.
Assistant Professor
11
22
Dr.SARITHAMOL S
M.Sc., NET, Ph.D.
Assistant Professor
2
23
Ms.ANITHA D
M.Sc., M.Phil., (Ph.D.)
Associate Professor
19
24
Ms.SRIDEVI O.A
M.Sc., M.Phil.,
Associate Professor
9
25
Ms.JAYANTHI R
M.Sc., M.Phil.,
Assistant Professor
2
26
Ms.ANITHA D
M.E.
Assistant Professor
3
27
Ms.YAMINI S
M.E.
Assistant Professor
5
28
Ms.BANUPRIYA P G
M.E.
Assistant Professor
11
29
Ms.JAYALAKSHMI A
M.E.
Assistant Professor
1
30
Mr.MONAJKUMAR B
M.E.
Assistant Professor
1
31
Mr.THANGAVEL R
M.E.
Assistant Professor
3 Months
32
Ms.KATHIRAVAN R
M.E.
Assistant Professor
10
33
Ms.VIGNESGWARAN R
M.E.
Assistant Professor
3 Months