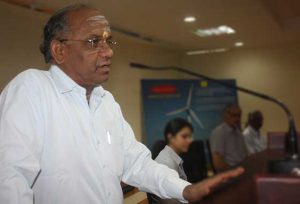 Dr. R.Vasanthakumar, a charity donor equality excellence and our founder promoter, is the Chairman of Karpagam Institute of Technology, one of the top Engineering colleges in Coimbatore. An enterprising industrialist, he is the Chairman and Managing Director of Karpagam Industries Private Limited, Karpagam Yarns Private Limited, Karpagam Infrastructure Private Limited, that together employ over 2000 personnel.
A Gold Medalist from the Madras University, he graduated with honors in Electrical & Electronics Engineering. It is probably his deep-rooted academic interest that fuelled Dr. R.Vasanthakumar's endeavours in the field of education.
Besides education, Dr. R.Vasanthakumar is a renowned name lending his assistance to philanthropic causes. His contribution to temple maintenance and renovation of dilapidated temples is priceless. He has also been instrumental in incepting the Panniru Thirumurai Aaivu Mayyam which is involved in Research of Ancient Tamil Saivism Literature like Thevaram, Thiruvasagam & Saiva Siddantham and spreading Saivism by conducting conferences and seminars once in 2 months.
Dr. R.Vasanthakumar's noteworthy contributions have been rightly commended through several titles and recognitions. An Honorary Doctorate conferred on him by the Avinashilingam University in 2004 stands testimony to his role as an exemplary academician and an extraordinary philanthropist. NIA Institutions, Pollachi has awarded the title 'Kongu Nattu Sathanaiyalar' on the occasion of the 51st Founder's Day of Shri. Nachimuthu Gounder. He has served as President, COSIEMA (Coimbatore Sidco Industrial Estate Management Association) during 1998 and 2000 and Tamil Nadu Private College Management Association (Coimbatore Chapter) 2000-2002. He is also the President of ENFUSE (Energy & fuel user's Association) Coimbatore Chapter and RENOVATION Committees of various SHIVA Temples.
The core value of KIT, one of the top colleges in Coimbatore, is derived from the vision of our management to provide the best possible resources for engineering education. The dream of becoming the top provider of engineering skills is being achieved every year with the enormous contributions of our management as one of the top Anna University colleges in Coimbatore.
Dr. P. ManiMaran, M.E., M.B.A., Ph.D.
30 years of Academic Experience.
Dr. P. Manimaran earned his B.E. from Annamalai University, MBA from Madurai Kamarajar University, M.E. from Thiagarajar College of Engineering, and PhD from Anna University in Chennai. He has worked in administration and education for around thirty years. He serves as a resource for several academic institutions and is a member of numerous expert committees. He has outstanding academic credentials and a wealth of expertise in Research & Development fields. And he has also received most prestigious award as renowned scientist by Stanford University, USA.