To produce technically competent and skilled engineers to meet the challenges of the IT industry.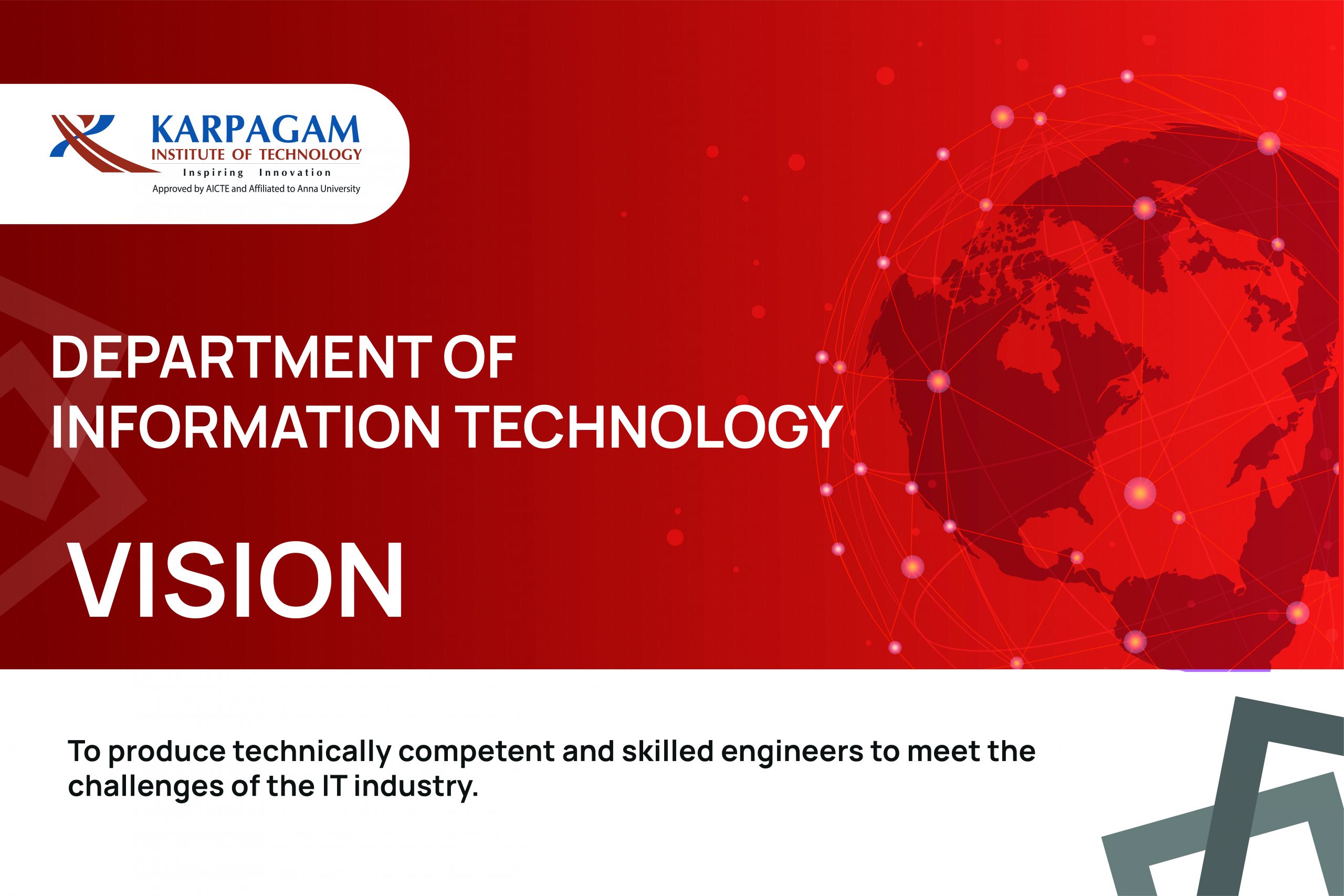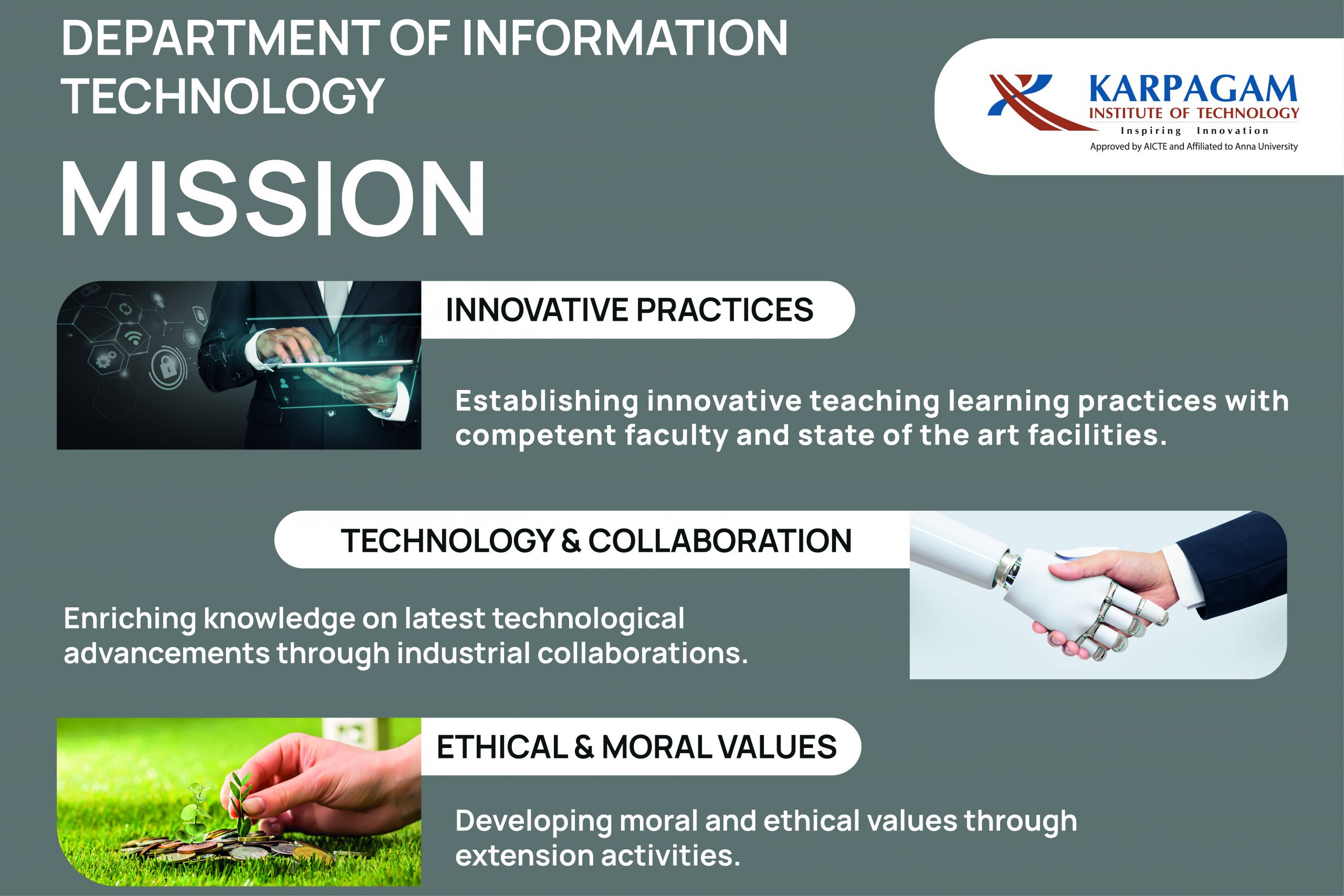 Establishing innovative teaching learning practices with competent faculty and state of the art facilities.
Enriching knowledge on latest technological advancements through industrial collaborations.
Developing moral and ethical values through extension activities.
PROGRAM EDUCATIONAL OBJECTIVES
1
PEO1: The graduates will have a successful career in the field of Information Technology and related domains.
PEO2: The graduates will provide solutions by applying analytical skills for the real-world problems in IT Industry.
PEO3: The graduates will involve in lifelong learning and as part of team in multidisciplinary projects with ethical values.
PO1: Engineering knowledge: Apply the knowledge of mathematics, science, engineering fundamentals, and an engineering specialization to the solution of complex engineering problems.
PO2: Problem Analysis: Identify, formulate, review research literature, and analyze complex engineering problems reaching substantiated conclusions using first principles of mathematics, natural sciences, and engineering sciences.
PO3: Design/development of solutions: Design solutions for complex engineering problems and design system components or processes that meet the specified needs with appropriate consideration for the public health and safety, and the cultural, societal, and environmental considerations.
PO4: Conduct investigations of complex problems: Use research-based knowledge and research methods including design of experiments, analysis and interpretation of data, and synthesis of the information to provide valid conclusions.
PO5: Modern tool usage: Create, select, and apply appropriate techniques, resources, and modern engineering and IT tools including prediction and modeling to complex engineering activities with an understanding of the limitations.
PO6: The engineer and society: Apply reasoning informed by the contextual knowledge to assess societal, health, safety, legal and cultural issues and the consequent responsibilities relevant to the professional engineering practice.
PO7: Environment and sustainability: Understand the impact of the professional engineering solutions in societal and environmental contexts, and demonstrate the knowledge of, and need for sustainable development.
PO8: Ethics: Apply ethical principles and commit to professional ethics and responsibilities and norms of the engineering practice.
PO9: Individual and team work: Function effectively as an individual, and as a member or leader in diverse teams, and in multidisciplinary settings.
PO10: Communication: Communicate effectively on complex engineering activities with the engineering community and with society at large, such as, being able to comprehend and write effective reports and design documentation, make effective presentations, and give and receive clear instructions.
PO11: Project management and finance: Demonstrate knowledge and understanding of the engineering and management principles and apply these to one's own work, as a member and leader in a team, to manage projects and in multidisciplinary environments.
PO12: Life-long learning: Recognize the need for, and have the preparation and ability to engage in independent and life-long learning in the broadest context of technological change.
PROGRAM SPECIFIC OUTCOMES
1
PSO1: Identify, formulate and solve engineering problems by applying programming concepts and algorithmic principles in the field of IT.
PSO2: Analyze, design and develop Software applications, Networking and Data Management technologies for efficient IT based systems.
S. No
Facility
Equipment
Systems
1
Bhaskaracharya Laboratory
Processor Intel Core I7
Intel Chipset Mother Board
16GB DDR4 RAM
512GB SSD Hard Disk
35
2
Brahmagupta Laboratory
Processor Intel Core I5
Intel Chipset mother board
16GB DDR4 RAM
Seagate 256GB SSD Hard disk
35
3
Subrahmanyan Chandrasekhar Laboratory
Processor Intel Core I7
Intel Chipset Mother Board
16GB DDR4 RAM
512GB SSD Hard Disk
35
4
Vikram Sarabhai Laboratory
Processor Intel Core I5
Intel Chipset mother board
16GB DDR4 RAM
Seagate 256GB SSD Hard Disk
35
5
Project Laboratory
Processor Intel Core I3
Intel Chipset Mother Board
4GB DDR3 RAM
Seagate
500GB Sata
Hard disk drive
20
6
Research Laboratory
Processor Intel Core 2 Duo
Intel Chipset Mother Board
4GB DDR2 RAM
160 GB
Hard Disk Drive
15
7
Repute powered Software Application Development Laboratory
Intel(R) core ™ i3 Processor, 4GB RAM
15
8
Smart Class Room
1
9
Seminar Hall
1
10
IIT Spoken Tutorial
Subscription Membership
YES
Students Strength (2022-2023)
1
| Class | Strength | Boys | Girls |
| --- | --- | --- | --- |
| II-IT | 67 | 46 | 21 |
| III-IT | 64 | 41 | 23 |
| IV-IT | 55 | 45 | 10 |
| Batch | Graduation (%) |
| --- | --- |
| 2022 | 100 % |
| 2021 | 94 % |
| 2020 | 95 % |
| 2019 | 52 % |
| Batch | Strength | Placement(%) | Maximum CTC in LPA |
| --- | --- | --- | --- |
| 2022 | 24 | 87.5 | 5.4 |
| 2021 | 33 | 94 | 4.5 |
| 2020 | 40 | 92 | 4.25 |
| 2019 | 27 | 89 | 4 |
Operating System Lab
Data Structures Lab
Mobile Application Development Lab
Algorithm Lab
Database Management System Lab
Big Data Analytics Lab
Web Programming Lab
Network Security Lab
Compiler Design Lab
Case Tools Lab
IoT Lab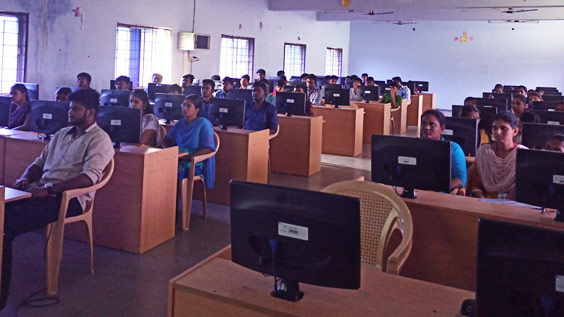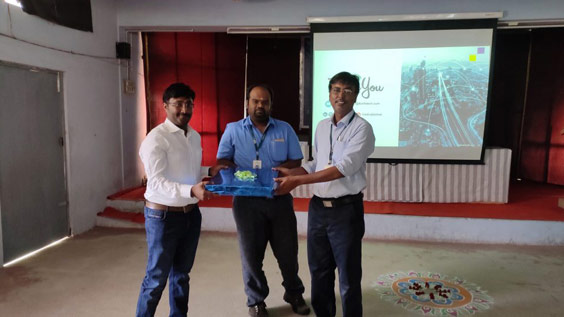 Infosys Limited
EMC2
Linux Xpert Systems
Gateway Software Solutions- Delivery partner of HP
Hyagrivas Technologies
Finger print sensor vehicle starter system
Intelligent Face detection security system
Gazone – An automatic waiting system

Student Achievements (in last 5 years)
1
Our students have participated in Smart India Hackathon in 2020 and 2022, secured First place in 2020.
95% Students have placed in MNC every year.
Our students have participated in technical events like International and National conferences, paper presentation, project exhibition etc., every year.
Students are successively participated in Hackathons, TCS TechBytes, TCS Codevita, InfyTQ, Cognizant GenC, Wipro TalentNext,etc
Students have enrolled membership in CSI,ACM,ICT Academy, GitHub, Google Cloud & Node School, Coimbatore Chapter.
Students got shortlisted in second round of Microsoft Azure Startup Competition.
Students got shortlisted in Binance Hackthon.
Students submitted project on Web3athon of HackerEarth.