The Department of Mechanical Engineering has been a part of Karpagam Institute of Technology (KIT), one of the top Engineering Institutes in Tamil Nadu, offering an undergraduate degree program (B.E. Mechanical Engineering) since 2009. The Department of Mechanical Engineering is fully committed to creating engineering talent for the Industry and the Community.
It has highly qualified, experienced and devoted faculty members as well as a dynamic environment for research activities headed by Professors with Ph.D. degree from prestigious Universities. At the moment, six faculty members are actively involved in research to get their Doctoral degree.
The Department has built state of the art facilities to spread emerging advancements by including software for cutting-edge technologies in the fields of Computer Aided Design and Manufacturing. The projects and hands-on training activities are intended to instill an entrepreneurial mindset in students and encourage them to start their own enterprises.
To transform the students into effective Mechanical Engineers in their career to develop the qualities of leadership and entrepreneurship at global level, inculcating professional and ethical responsibilities focusing on social awareness and cultural heritage for the betterment of the society by providing innovative and congenial learning practices to meet the changing needs of the industry and society.
To develop core competencies in Mechanical Engineering through effective teaching and learning practices.
To facilitate the students with divergent learning and groom them to be problem solvers with excellent soft skills and high ethical values.
To collaborate the various professional bodies and research agencies for establishing knowledge centre in the campus.
To ensure Industrial readiness of students by suitably integrating with Industry and Alumni.
To encourage and nurture research minds and supporting them on entrepreneurial ventures.
PROGRAM EDUCATIONAL OBJECTIVES
1
PEO1: Have a successful career in Mechanical Engineering and allied industries.
PEO2: Have expertise in the areas of Design, Thermal, Materials and Manufacturing.
PEO3: Contribute towards technological development through academic research and industrial practices.
PEO4: Practice their profession with good communication, leadership, ethics and social responsibility.
PEO5: Graduates will adapt to evolving technologies through life-long learning.
PROGRAM SPECIFIC OUTCOMES
1
PSO1: Apply the knowledge of Computer Aided Design and Computer Aided Engineering tools to design and analyze the products and process related to Mechanical Engineering systems.
PSO2: Develop the knowledge and skill relevant to Heating Ventilation and Air-Conditioning industries.
PSO3: Exhibit the ability to make a product related to Mechanical Engineering and allied engineering fields.
Engineering Practices Laboratory (Welding, Sheet Metal, Foundry and Fitting Shop)
Machine Shop (Manufacturing Technology Lab I & II)
Dynamics Laboratory
Strength of Materials Laboratory
Thermal Engineering Laboratory
Heat Power Laboratory
Mechatronics Laboratory
Metrology and Measurements Laboratory
Fluid Mechanics and Machinery Laboratory
CAD/CAM Laboratory
Simulation and Analysis Laboratory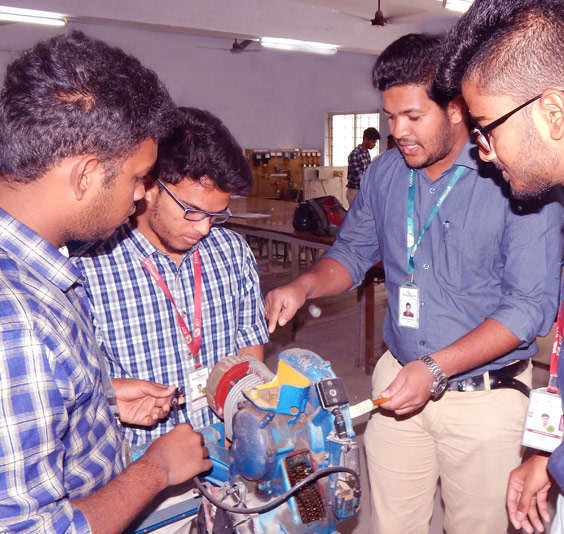 Tamil Nadu State Transport Corporation Depot, Pollachi.
Ashok Leyland, Chennai.
ELTEX super casting, Coimbatore.
Texmo Industries, Coimbatore.
ELGI Rubber Company Limited, Coimbatore.
Ford, Chennai.
Hyundai motors, Chennai.
Larsen & Toubro Limited, Coimbatore.
BMW, Chennai.
TVS, Chennai.
Toyota, Chennai.
BHEL, Trichy.
SPIC, Tuticorin.
SAIL, Salem.
NLC, Neyveli.
Department is permanently Affiliated to Anna University, Chennai since 2018 for its well known Infrastructure and Facilities
More experienced & highly motivated faculty members with good academics
Following Outcome based Teaching and Learning process
Department has Modernized Laboratories
Excellent Placement record
Department has adequate Student-Teacher ratio as per AICTE norms
Department frequently conducts Value Added Courses
Department has strong and active Alumni forum-REWIND
Possessing SAE Vehicle Design Lab for SUPRA and BAJA
Department provides PMKVY- CNC Training to Rural Youths
Department has 3D Printing facility for Hands on Training of Students
Department provides Spoken Tutorial Courses of IIT Bombay
Department has active E Yantra Lab (Supported by MHRD and IIT Bombay)
Department offers In-Plant Training and Industrial Visits to students
Department organizes Entrepreneur Awareness Camp (Supported by MSME)
| | | | | |
| --- | --- | --- | --- | --- |
| | | | | Vasumathi Castings |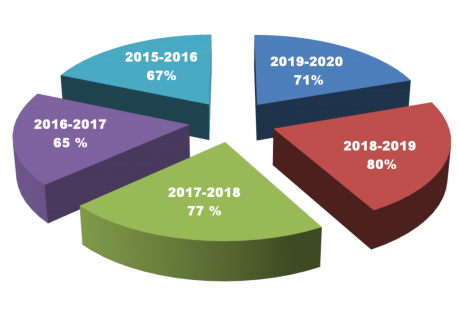 Academic Year
Project Details
Students
Industry
2019-20
Methods in improving the efficiency of Lignite fired boiler  in Thermal Power Station
M.Mugilan
M.Revanth
K.S.Selva Muthu Kumaran
J.Sivakumar
2019-20
Performance analysis of Steam Turbine
M.Abinesh
R.Balraj
K.Kaviraj
M.Manoj Prabhakar
2017-18
Replacement of Jig for Belt Idlers in specialized Mining equipments
K.M.Balavignesh
M.Bhaveen
M.Gokulnath
A.Hariharan
2017-18
Experimental Investigation  on Solar Parabolic trough collector
S.N.Kabilan
S.Mouleeswaran
S.Jayaprakash
M.Ananda Kumar
2017-18
Heat rate performance study in Thermal Power Plant
B.Cibi
J.Dhanasekar
R.Karthick
S.Gokul Raja
2017-18
Performance analysis on Heating Ventilation Air Conditioning (HVAC) system
S.Praveenkumar
S.Ramkumar
K.Saravanan
G.Sathish kumar
2017-18
Study and Analysis to increase the life of Full Deflector plate in Mill Rotor
M.Prakesh
T.Ragunathan
C.Sasidharan
K.Yuva bharathi
2017-18
Design and development of a 3D Printer
K.Pavithra
C.Sarath kumar
R.Sudhan
M.Venkatragavan
2016-17
Productivity Enhancement of CNC Lathe-shop by adopting Cellular Layout
M.Karthik
S.Karthik
E.Gowtham