To become a front-runner in bringing out globally competent electrical and electronics engineers, innovators, researchers, and entrepreneurs, who can contribute for the development of knowledge based society.
The department of Electrical & Electronics Engineering, one of the prestigious departments in Karpagam Institute of Technology started in the year 2008. The department provides Bachelor programme in Electrical & Electronics Engineering for 4 years. There are 8 well qualified, dedicated faculty members specialized in various fields of Electrical & Electronics Engineering. The department aims at providing skill based training along with the curriculum to bring out strong, competent students with sound knowledge in the field of Electrical and Electronics Engineering.
Students are motivated to participate in extra-curricular and several co-curricular activities like project expo in various domains, paper presentations, workshops, national and international level seminars. The department provides Internships, trainings, and industrial visits for students every year. MoU's have been signed with number of companies to provide Industrial Certification Training to the student's right here on the Campus. Department also provides GATE and IES coaching for students who wish to pursue higher education in Tier-I colleges and for those who are preparing for central government jobs.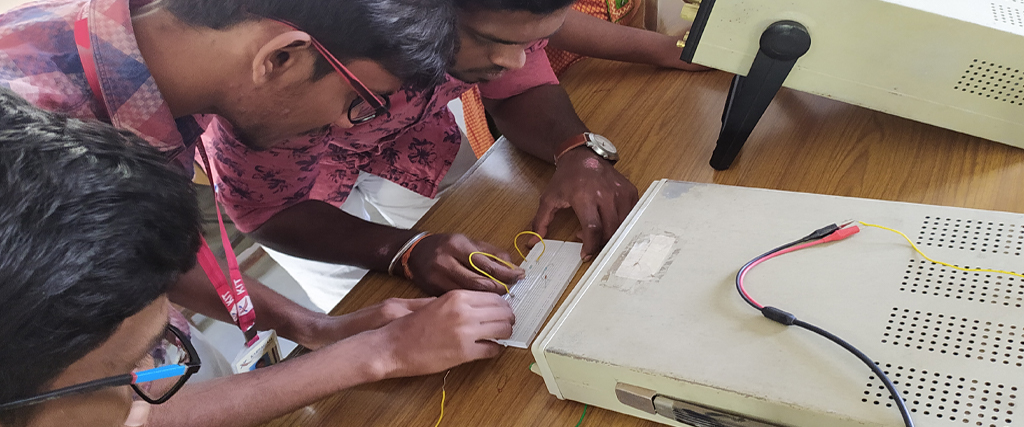 To put best efforts to provide intellectual, ethical and technological environment to the students.
To bridge the gap between academia and industry by providing adequate training to the students and by promoting collaborative and multi-disciplinary activities.
To inculcate research orientation to both staffs and students.
ELECTRICAL MACHINES LAB
ENGINEERING PRACTICES LAB
POWER ELECTRONICS LAB
CONTROL AND INSTRUMENTATION LAB
MEASUREMENTS AND INSTRUMENTATION LAB
POWER SYSTEM SIMULATION LAB
MEMORANDUM OF UNDERSTANDING
1
This MoU is made on this day of   12.09.2018 by and between Industrial Electronics Corporation Pvt. Ltd., a company having its registered office at SIDCO, Industrial Estate, K.Pudur, Melur Road, Madurai and Tamilnadu 625007 (hereinafter referred to as "IEC") and represented by its Chairman & Managing Director Er.V. Ramprakash.